Did you know we've partnered up with EDIDA award-winning homeware brand Safomasi for a range of exclusive upholstery fabric options for sofas, armchairs and headboards? No? Then where have you been!
Our exclusive upholstery prints have been selected from Safomasi's very popular Pushkar Camels, Alleppey Palm Pickers and Japanese Crane collections. The tones have been updated to complement Iqrup + Ritz's current colour palette and furniture lines.
"We've loved Safomasi's prints ever since we saw them debut at India Design ID. It was a real pleasure working with Sarah and Maninder. The hard part was restricting the selection to just a few of their beautiful patterns."
— Iqrup Dhamija, founder Iqrup + Ritz
"It was really exciting for us to see our prints come to life on Iqrup + Ritz's beautifully crafted furniture. I love the earthy colour palette that we developed together, so different from our original colour ways but it works brilliantly."
— Sarah Fotheringham, Co-founder, Safomasi
The Collections:
Pushkar Camels
Safomasi for Iqrup + Ritz's Pushkar Camel is an amazing pop print of camels from Pushkar. Every year, thousands of camels are brought to be traded at the Pushkar Camel Fair. It's an incredible sight, with traders doing business whilst tourists watch camels dancing and locals compete for the best moustache. From decorated camels to snappily dressed traders, Sarah (Safo) and Maninder (Masi) have interpreted the colours and ornaments to create a mesmerising print.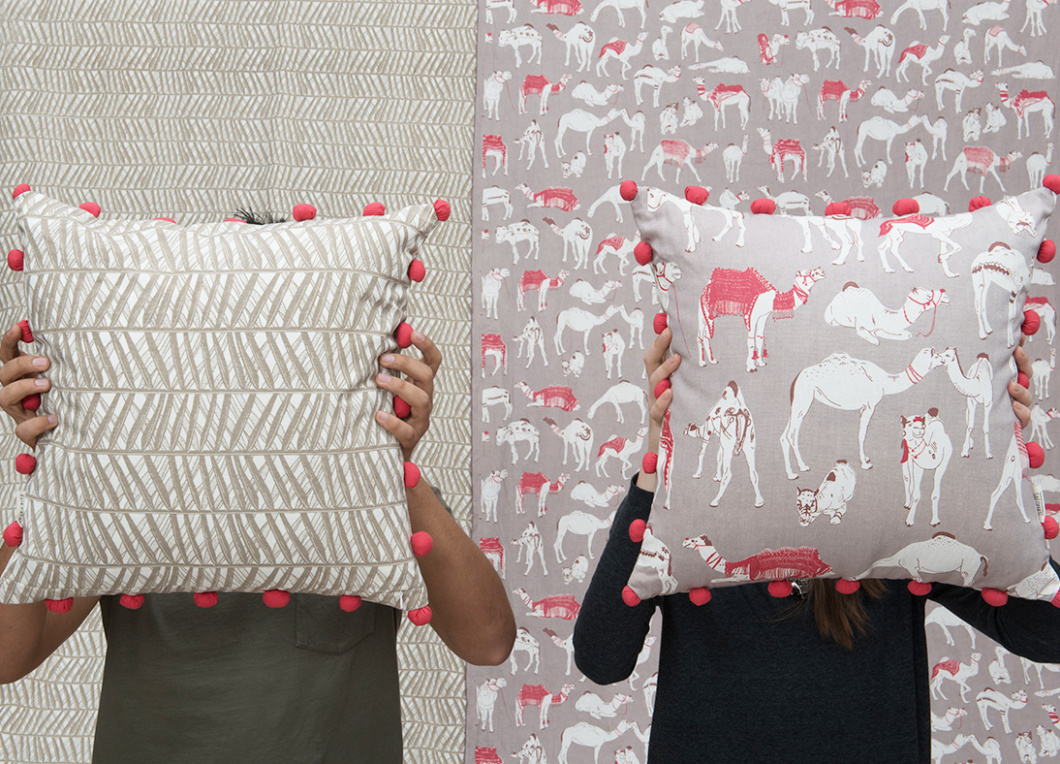 Featuring Dalhousie Slipper Chair in Pushkar Camel Fabric
The Dalhousie Slipper Chair is designed by Iqrup and made in Iqrup's own workshop. It has beautifully curved square back legs and chic spooled legs in front and is finished in walnut finish. The seat also has chic button tufting detail and the seat is comfy but firm.
Alleppey Palm Pickers
Safomasi for Iqrup + Ritz introduces you to the Coconut Palm Picker print inspired from all the way down south of India. The print captures the lush tropical landscape of Kerala in colourful hues of fresh greens, blues and coral. Coconut pickers climbing up palms are paired with woven bamboo leaf patterns in a rust colour.
Featuring (1) Gymkhana Cane Chair in Bamboo Rust, (2) Gymkhana Armchair in Coconut Palm Pickers
Japanese Cranes
Safomasi for Iqrup + Ritz's Cranes print is based on sketches and memories of travelling through the two fascinating sides of Japan. The hand printed pattern is inspired by the belief in Japan that a string of one thousand origami cranes will bring good luck.
Featuring (1) Cushions in Gold and Blue Cranes, (2) Shimla armchair in Gold Crane print with Blue Piping
Where to buy
The whole collection is available to buy online at iqrupandritz.com.
Did you also know we offer a Free Design Consultation? Our designers will provide a concept moodboard for your home along with floorplans using furniture from the Iqrup + Ritz collections. Just filled in our Design Quiz.