We are a family of makers
We work in collaboration with family-run workshops across the world to make high quality handcrafted pieces, and together our partners combine 100+ years of expertise. Countless hours are spent sourcing the best raw materials and perfecting each detail.
Most of our collections are made in-house at our very own workshop in India. Some of our makers have even worked with us for over 30 years. A real family business.
Without our makers & designers there would be no Iqrup + Ritz.
Here's a few of the brilliant people behind Iqrup + Ritz:

Ramesh & Parminder
Role: Head Carpenters
Our head carpenters are integral to Iqrup + Ritz. During the design and making process, they bring our ideas to life and work with us to handcraft our furniture to perfection. We work in collaboration with them to prototype our designs, and once the designs have been finalised, they make all the pieces and assemble them. What you end up purchasing from Iqrup + Ritz is a embodiment of years and years of expertise and craftsmanship.
Ashok, Izhar & Ramsabad
Role: Polishers
After the furniture is made by our carpenters, it goes into polishing where our super talented polishers give character and shine to the furniture. They work with us to choose the right kind of polish for the design whether its weathered black (one of our classics), dark ash, or even something entirely new.
Om Prakash
Role: Head Upholsterer
Once the furniture has been polished, if it's a chair or a sofa, it gets passed on to our expert upholsters. They dress the chair in beautiful fabric and also add all the padding to the seats so they're especially soft and comfortable.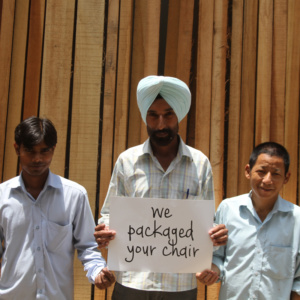 Rajesh, Dalbir & Ek Bahadur
Role: Packaging
When the furniture is finished, all that's left to do is to package it up and deliver it to your home! We only use the best packaging materials and techniques to deliver our furniture because pieces that have been lovingly handcrafted need loving care on their journey to you. Our packagers are exemplary. They ensure your piece is packaged properly and delivered straight to your doorstep. They are also great at assembling your furniture and installing it where you want it.
Gallery
Want to know what goes into making a chair? Check out How to cook up a Draper chair.